Home of 1978 and 1979 Dodge Lil Red Express truck owners and enthusiasts. A place for owners to show off these performance trucks or non owners to learn more about them. Site includes featured Lil Red Express Trucks, Information, Links, Photos, Production numbers, screensavers and much more.
Own A 1978 or 1979 Dodge Lil Red Express Truck?
Here is your chance to show the world your classic Dodge truck. We are currently seeking Lil Red Express Trucks to feature on this site. We welcome all real 1978 and 1979 Dodge Lil Red Express Trucks. Click Here to have yours featured!
About Dodge Lil Red Express Trucks:
The Dodge truck division of the Chrysler Corporation introduced the Lil Red Express in 1978. Without a doubt the most unique sport truck ever produced by any car company. However, the Lil Red Express not only looked good it was the fastest American made vehicle from 0 to 100 MPH in 1978.
Lil Red Express trucks featured a High Performance 360 cubic inch 4-barrel small block engine. Also included was a HD automatic transmission and 3.55:1 rear gears. On the outside it was painted in Canyon Red paint and included gold pin striping and decals. To complete the looks Dodge added chrome bumpers, chrome sidesteps, chrome wheels, oak wood trim panels, and a pair of big-truck chrome exhaust stacks.
On the inside, a standard bench seat was included in either red or black. Bucket seats were available as an option and included a fold down arm/rest console. Dodge produced 2,188 of these cool trucks in 1978. Dodge offered the Lil Red Express truck again for 1979.
While most features stayed the same a flat hood was added along with dual square headlights. Emission changes included a catalytic converter, unleaded gas, and a 85 MPH speedometer. Dodge produced 5,118 Lil Red Express trucks for 1979. For more information on this cool Mopar truck visit our information section.
Latest Dodge Lil Red Express Trucks: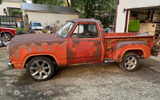 Featured Dodge Lil Red Express Trucks:
Our site contains the internets best collection of featured Lil Red Express Trucks. Show you Mopar pride by having your truck added to the collection! Submit your Lil Red Truck